Art Deco and Streamline Moderne Styles
Art Deco
A Major Style of the 20s & 30s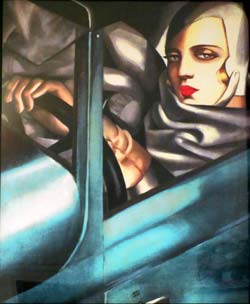 Tamara in a Green Bugatti
1929
Art Deco was a movement in the decorative arts and architecture that originated in the 1920s and developed into a major style in western Europe and the United States during the 1930s. Its products included both individually crafted luxury items and mass-produced wares with the intention of creating a chic, glamorous and anti-traditional elegance that symbolized wealth and sophistication. It drew inspiration from various sources, including the more austere side of Art Nouveau, cubism, the Russian Ballet, American Indian art and the Bauhaus movement. Its name was derived from an exhibition held in Paris in 1925, called the "Exposition Internationale des Arts Décoratifs et Industriels Modernes", where the style was first exhibited.
Art Deco followed Art Nouveau. It was similar to Art Nouveau in that it was a modern art style that attempted to infuse functional objects with decorative artistic touches. However it was different from Art Nouveau in that it had a more egalitarian aim, that was to make aesthetically appealing, machine-made objects that were available to everyone. With the advent of large-scale manufacturing, artists and designers wished to enhance the appearance of mass-produced functional objects - everything from clocks and radios to cars and buildings. The Art Deco aesthetic emphasized machine-age streamlining and sleek geometry. It influenced all forms of creative design. Artists such as Tamara de Lempicka produced Art Deco images symptomatic of the freedom and decadence associated with the roaring 1920s in Paris.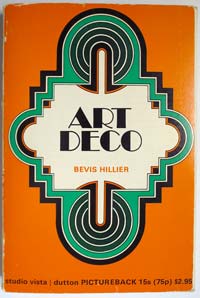 Bevis Hillier's Book
In 1968 Bevis Hillier's book, Art Deco of the 20s and 30s, was published by Studio Vista. Up until this time, this neglected genre of art had previously been referred to as Art Moderne. Hillier's use of the term Art Deco became definitive. Art Moderne now refers to the later streamlined style of Art Deco of the 1930s.
Symmetry & New Materials
Art Deco works were symmetrical, geometric, streamlined, often simple, and pleasing to the eye. It responded to the demands of the machine and of new materials such as Bakelite, chrome, aluminium and other quality materials. Art Deco cameras often feature vertical lines, geometric decorative shapes, stepped designs, chrome, imitation animal skins and heavily decorative moulded Bakelite.
Art & Industry
It was a movement whose ultimate aim was to end the old conflict between art and industry. The old snobbish distinction between artist and artisan was challenged, partly by making artists adept at crafts, but still more by adapting design to the requirements of mass-production. In the 1930s, during the Great Depression, the Art Deco style became more subdued. A sleeker form of the style, called Streamline Moderne, appeared in the 1930s.
Streamline Moderne
Streamline Moderne, sometimes termed Art Moderne, is a late type of the Art Deco design style that emerged in the 1930s in America and continued into the 1940s. Its style emphasized curving forms, smooth & polished surfaces and long horizontal lines.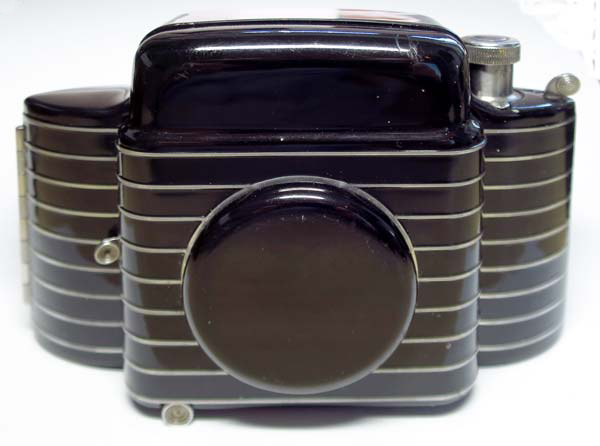 Kodak Bantam Special
Americans saw a new aspect of Art Deco in terms of streamlining. It was first conceived by industrial designers who stripped Art Deco design of its ornament in favor of the aerodynamic pure-line concept of motion and speed developed from scientific thinking. As a result, an array of designers quickly ultra-modernized and streamlined the designs of everyday objects. Manufacturers of cameras, clocks, radios, telephones, cars, furniture, and many other household appliances embraced the concept streamlining even though their products didn't need it.
Streamline Moderne was both a reaction to Art Deco and a reflection of austere economic times; Sharp angles were replaced with simple, aerodynamic curves. If featured curving forms and smooth polished surfaces.
Art Deco and Streamline Moderne were not opposites. Streamline Moderne cameras with a few Deco elements were not uncommon. The prime mover behind American design, Walter Dorwin Teague, embraced streamlining, which allowed him to produce his masterpiece of a camera in the form of the Kodak Bantam Special.
Art Deco in the 40's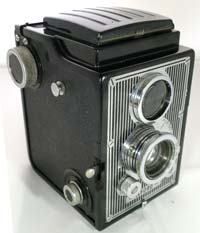 Ilford Craftsman 1949
By the 1940's Art Deco as a movement was coming to an end. But all Art Deco designers didn't just disappear in 1940 as if struck down by some plague.
During the war, camera production in Europe virtually came to a halt. After World War II the style had largely vanished, except in industrial design, where it continued to be used in automobile styling and products such as juke boxes. In the late 40's, many camera makers simply started up again with the pre-war Art Deco designs and therefore continued to produce cameras with features reminiscent of the Art Deco period.
What to look out for:-
Glamour
Excitement
Geometrical patterns and shapes
Symmetry
Vertical or horizontal lines
Stepped features (Ziggurat style)
Sweeping curves
Lightening bolts
Zigzags
Chevron Patterns
Unvaried repetition of elements
Triangular and Trapizoidal shapes
Streamlining
Concentric circles
Chrome and Aluminium
Heavily decorated moulded Bakelite
Shiny black or other coloured enamel
Patterned leatherette
Animal skin patterning
Stylized organic forms
Stylized natural forms
Symbolism from older cultures - Egyptian, Mayan
Sunburst motifs
Bright Colours
Relative simplicity