Kodak Bantam Special
Specification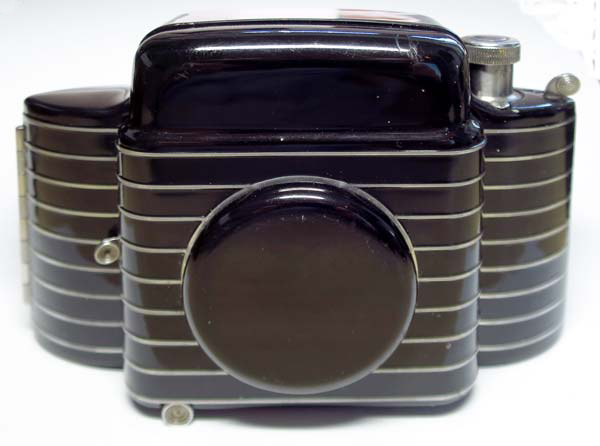 Kodak Bantam Special
| | | |
| --- | --- | --- |
| Manufacturer | : | Kodak |
| Produced | : | 1936-1948 |
| Classification | : | Miniature |
| Body Type | : | Folding Bed |
| Bellows Deployment | : | Self Erecting |
| Construction | : | Cast Aluminium |
| Film Type | : | 828 |
| Film Width | : | 35mm |
| ImageSize | : | 4 x 2.8 cm |
| No. of Images | : | 8 |
| Lens Type | : | Ektar Anastigmat |
| Focus Type | : | Rangefinder |
| Focal Length | : | 45mm |
| Focal Range | : | 3ft - inf. |
| Aperture Type | : | 5 Blades |
| Aperture | : | f/2 - f/16 |
| Shutter Type | : | Compur |
| Shutter Speeds | : | T,B,1-1/500 sec |
| Size Closed (w x h x d) | : | 120 x 80 x 50 mm |
| Size Open (w x h x d) | : | 120 x 80 x 97 mm |
| Weight | : | 465g |
Art Deco Credentials






Iconic: Famous, well-known and celebrated
produced during the main Art Deco period.
Designed by Walter Dorwin Teague.
Art Deco Streamline Moderne design.
Aluminium clam shell case made using cast aluminium and black enamel.
Horizontal lines and curved body enhancing the streamline effect.
Chrome film advance knob.
Description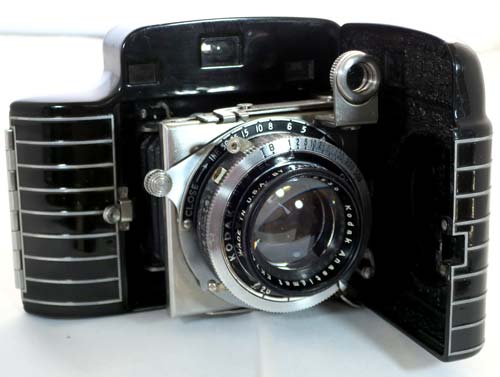 Bantam Special Open
The Kodak Bantam Special may be one of the most uniquely beautiful cameras of all time. It was produced by Kodak from 1936-1948, and had a stylish Art Deco design consisting of a black enamelled cast aluminium, clam-shell body. The Streamline Moderne design was by Walter Dorwin Teague, a noted industrial design pioneer going back to the 1930's. Teague was responsible for the design of the famous Sparton table radios, a revamp of the Texaco gas station and logo, TWA identity, early Polaroid cameras, to name a few. The streamlining effect was achieved by rounding the corners and by having no extraneous decoration.
How to Use
You can find the manual here:- Bantam Special User Manual. However, one thing the user manual doesn't tell you is that the film for this camera is not easily available. The Bantam Special is NOT a 35mm camera. It was made for 828 film which is a paper backed film with only one registration hole per frame. The film gate size is slightly larger than that of a 35mm camera but the overall width of the film is the same. You have a number of options:-
Use old expired film.
Find some 828 backing paper and roll 35mm film in it.
Cut down 120 film to fit.
What I suggest is to have fun with some expired film, keep the backing paper and spools, and then load it with 35mm film.
Photographs taken with this camera
Using Expired Film
Old expired film can easily be found on the internet. However, there is usually no way of knowing how the film has been stored and so the results are variable. I found some old 828 film that had expired in September 1966. The secret is to over-expose old film. The general rule is one stop per decade for colour film and one stop per two decades for B&W.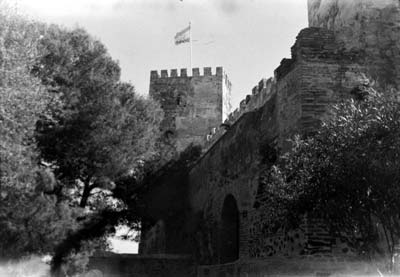 Sohail Castle, Fuengirola, Spain.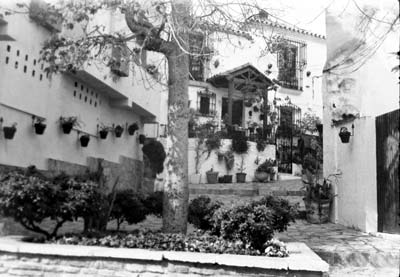 Estepona, Andalucia, Spain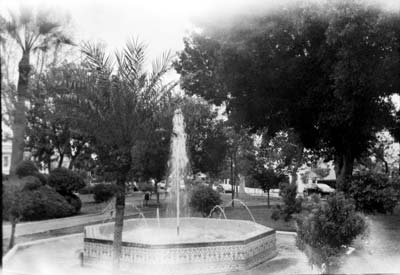 Marbella, Andalucia, Spain
Use 35mm film with 828 backing paper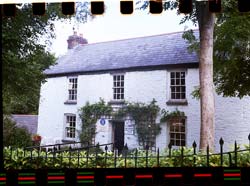 Image beyond Sprocket Holes
If you have some 828 backing paper, it is possible to roll some 35mm film into it. You will need about 42cm of 35mm film. This can be taken from a 35mm film canister. You should be able to get 3 rolls of film from one canister. The film gate is larger than that of a 35mm camera so the image covers the sprocket holes giving a very nice effect. To do this, please refer to Use 35mm film in an 828 camera
Images using 35mm in 828 backing paper
Fujicolor C200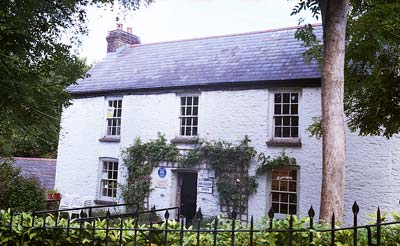 Nantgarw Pottery, Wales, UK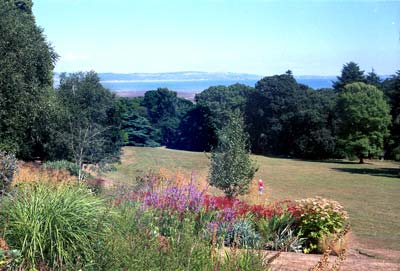 Clyne Gardens, Swansea, Wales, UK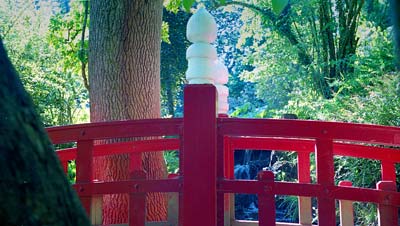 Japanese Bridge, Clyne Gardens, Swansea, UK