Jiffy Kodak six 16
Specification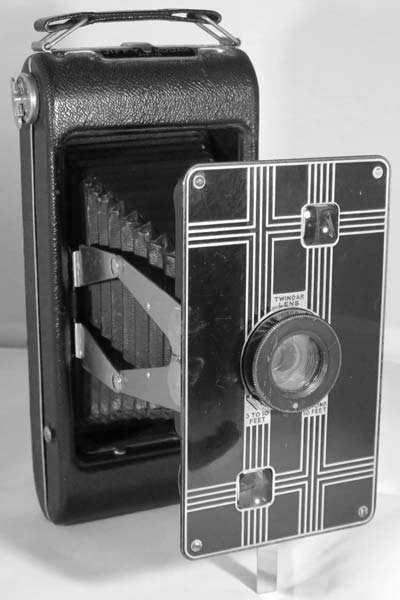 Jiffy Kodak six-16
Manufacturer
:
Kodak
Produced
:
1933-1937
Classification
:
Medium Format
Body Type
:
Folding Strut
Construction
:
Metal
Film Type
:
616
Film Width
:
70mm
Image Size
:
2½ x 4¼ in
No. of Images
:
8
Lens Type
:
Twindar periscopic
Focus Type
:
Two position
Focal Length
:
120mm
Focus Range
:
10ft to inf
portrait 5ft - 10ft.
Aperture Type
:
Multihole
Aperture
:
f/11, f/16, f/22
Shutter Type
:
Rotary
Shutter Speeds
:
T, I(1/40 sec)
Size Open (w x h x d)
:
93 x 193 x 139 mm
Size Closed (w x h x d)
:
93 x 193 x 40 mm
Weight
:
820g
Art Deco Credentials






Iconic: Famous, well-known and celebrated
Produced during the main Art Deco period.
Etched metal front panel with lined geometric design.
Chrome plated and enamel used for front panel.
Symmetrical design.
Chrome embellishment used throughout.
Styled by Walter Dorwin Teague.
Description
The Jiffy Kodak Six-16 is a folding camera for 616 film made by Eastman Kodak Co. Ltd. Rochester from 1933 to 1937. It was styled by Walter Dorwin Teague. It has a Twindar periscopic lens with zone focusing; the only zones given are "5 TO 10 FEET" and "BEYOND 10 FEET". It has three selectable apertures, f/11, f/16 and f/22. It has two brilliant viewfinders in the pop out lens board, one for vertical and one for horizontal images. There is also a 620 film version of this called the Jiffy Kodak Six-20. The cameras are identical in design and functionality.
How to Use
This camera takes uses 616 film which is not available anymore except as expired films. This means that the camera needs modification to take 120 film. Modification is fairly straight forward and will easily give 5 'panoramic' exposures producing 2¼ x 4¼ inch negatives. Check out my page on 'Conversion of a 616 camera to take 120 film'.
For exposure settings, follow the info given for the Jiffy Kodak Six-20