Kodak Brownie Pliant Six-16
Specification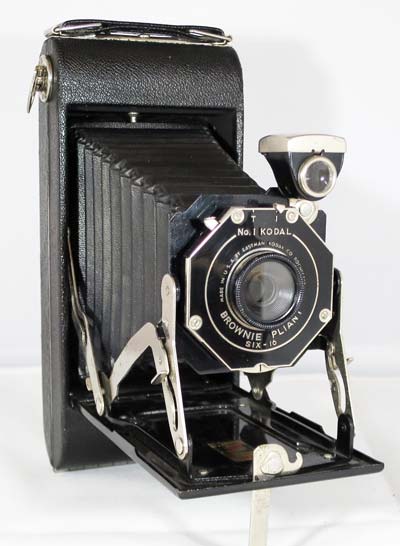 Kodak Brownie Pliant Six-16
Manufacturer
:
Kodak USA
Produced
:
US 1934
Classification
:
Medium Format
Body Type
:
Folding Bed
Bellows Deployment
:
Self Erecting
Construction
:
Metal
Film Type
:
616
Film Width
:
70mm
ImageSize
:
2½ x 4¼ in
No. of Images
:
8
Lens Type
:
Meniscus
Focal Length
:
120mm
Focus Type
:
Fixed
Focal Range
:
1.3m - inf.
Aperture Type
:
Stops on rotary plate
Aperture
:
f/11, f/16, f/22, f/32
Shutter Type
:
No. 1 Kodal
Shutter Speeds
:
T, I*(1/40 sec)
Size Closed (w x h x d)
:
85 x 185 x 35 mm
Size Open (w x h x d)
:
85 x 185 x 155 mm
Weight
:
691g
* Measured on this camera
Art Deco Credentials




Noteworthy: Worth giving special attention
Produced during the main Art Deco period.
Octagonal black and chrome faceplate design.
Chrome struts.
Chrome embellishments to viewfinder.
Chrome winder, body latch and film door latch.
Styled by Walter Dorwin Teague
Description
Although manufacturing took place in the United States, the Brownie Pliant was made for the French market. The word 'pliant' means 'folding' in French . It came out in 1934 and was actually a version of the Six-16 Folding Hawk-Eye that was on the market in the United States from 1933 through 1934. It uses 616 rollfilm and has a single meniscus rear lens and a zero power protective front glass.
It is a self-erecting folding camera which is covered with pig-grained leatherette. The shutter plate is octagonal with a chrome circle on black enamel. The struts are chrome and ornate. It has a brilliant finder that swivels to cater for both portrait and landscape views. The red window has a swinging cover. A tripod mount is provided on the folding bed.
The shutter is a T/I type but only has one speed. The fixed focus f/11 meniscus lens can be stopped down using stops on rotary plate, numbered 1-4, to provide aperture values of f/11, f/16, f/22 and f/32. The focal range depends on the aperture setting. Minimum focussing distances are:- f/11 - 2.4m; f/16 - 2.1m; f/22 - 1.65m; f/32 - 1.3m.
How to Use
The manual for a similar camera to this can be found here:- Kodak Junior Six-16 Manual
This camera takes uses 616 film which is not available anymore except as expired films. This means that the camera needs modification to take 120 film. Modification is fairly straight forward and will easily give 5 'panoramic' exposures producing 2¼ x 4¼ inch negatives. Check out my page on 'Conversion of a 616 camera to take 120 film'.
When you have completed the conversion to 120 film, if you don't want to bother with an exposure meter, follow the guide shown. It is based on the 'Sunny 16' rule. Film is so forgiving and will produce acceptable results even when overexposed by 2 or 3 stops or underexposed by 1 stop.
The aperture values are:- f/11(1), f/16(2), f/22(3) and f/32(4). The shutter speed is about 1/40s.
Remember that the exposure guide in the camera user manual may not be helpful as it is based on the use of old film with a low ISO value. The tables assume that the sun is at least 30 degrees above the horizon - that's 10am - 5pm on a summer's day(May-August) in the UK. If you are not sure about the light level, err on the side of overexposure - i.e. assume the smaller f number.
The slow speed of this shuter may mean you need a tripod to stop blur through shake.
I recommend ISO 400 film in this camera, especially in winter.
Using ISO 100/125 Film
Weather Conditions
Shadow Detail
Aperture
Exposure
Sunny
Snow/Sand
Dark
with sharp edges
f/32(4)

Good

Sunny
Distinct
f/22(3)

Good

Slight Overcast
Soft around edges
f/16(2)

Good

Overcast
Barely visible
f/11(1)

Good

Heavy Overcast
None
f/11(1)
-1 Stop
Underexposed


Acceptable

Open Shade
/Sunset
None
f/11(1)
-2 Stops
Underexposed


Not Acceptable
Using ISO 400 Film
Weather Conditions
Shadow Detail
Aperture
Exposure
Sunny
Snow/Sand
Dark
with sharp edges
f/32(4)
+2 Stops
Overexposed


Acceptable

Sunny
Distinct
f/32(4)
+1 Stop
Overexposed


Acceptable

Slight Overcast
Soft around edges
f/32(4)

Good

Overcast
Barely visible
f/22(3)

Good

Heavy Overcast
None
f/16(2)

Good

Open Shade
/Sunset
None
f/11(1)

Good