Bencini Comet
Specification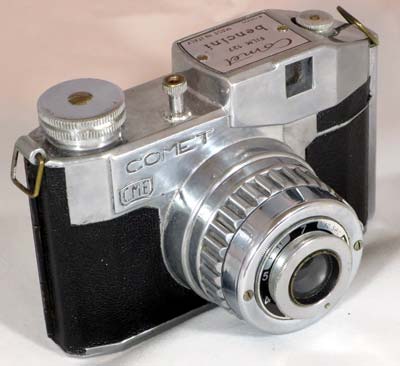 Bencini Comet
| | | |
| --- | --- | --- |
| Manufacturer | : | C.M.F. Bencini |
| Produced | : | 1948 |
| Classification | : | Miniature |
| Body Type | : | Solid Body |
| Construction | : | Cast Metal |
| Film Type | : | 127 |
| Film Width | : | 46mm |
| ImageSize | : | 1⅝ x 1¼ " |
| No. of Images | : | 16 |
| Lens Type | : | Meniscus |
| Focus Type | : | Front focusing |
| Focal Length | : | 55mm |
| Focal Range | : | 3ft - inf. |
| Aperture Type | : | Fixed |
| Aperture | : | f/11 |
| Shutter Type | : | Guillotine type |
| Shutter Speeds | : | T & I(1/30s) |
| Size (w x h x d) | : | 110 x 72 x 60 mm |
| Weight | : | 255g |
Art Deco Credentials




Noteworthy: Worth giving special attention
Designed after the main Art Deco period;
Polished aluminium body;
Deep straight knurled pattern on lens barrel;
Angular viewfinder surround;
Dual straight knurled alloy film advance knob.
Description
The Bencini Comet was the first of a series of cameras made by made from 1948 into the 1950s. They were made by CMF Bencini in Milan, Italy. Others bearing the name 'Comet' in this series were Comet II, Comet S, Comet Rapid, Commet 3, Comet III and Comet 44. It is solidly built from polished metal castings with a sheet metal back. It is a smaller versions of the 120 film Bencini Koroll range.
It is a viewfinder camera and is fitted with a 60mm meniscus lens and instantaneous & time shutter. The time function operates as 'Bulb'. The shutter release, which is on the body, is threaded to allow for the connection of a remote shutter release cable. The shutter function selector is unusual in that it is a tab that is pulled out from the lens barrel. This camera is capable of capturing sixteen half frame exposures (3 x 4 cm) on 127 film by the use of two red windows. It is a front focussing camera giving focus down to 3ft. A tripod mount is provided. The viewfinder is very small, the eye piece being only 3.5mm across.
How to Use
Find the manual for the Comet S camera here. It is similar to the Comet but also caters for synchronised flash. Bencini Comet S Manual
This camera takes 127 film which is still available from select outlets - search for 'Rera Pan 100-127' which is a black & white film. For those photographers in the UK, try Nick & Trick photographic services. If you want to use a particular type of film which is not available commercially, then you can cut your own 127 film from any 120 film. See my page on 'How to cut 127 film from 120 film'.
The two red windows are used to get 16 exposures from 127 film. The film is advanced until a number appears in the first window and an image is taken. Then the film is advanced until the same number appears in the second window. Then it's back to the first window for the next number. Don't forget to cover the windows with black tape except when advancing the film in low light. Modern film is sensitive to red light.
This camera supports Timed mode and Instant with a nominal speed of about 1/30 sec. However, my camera has a measured speed of 1/150s. It's always worth checking the actual speed of a vintage camera. It has a single aperture settings of f/11.
Assuming a shutter speed of only 1/30 sec, make sure you brace the camera against your body or something solid and press the shutter smoothly to avoid camera shake.
If you don't want to bother with an exposure meter, follow the guide shown. It is based on the 'Sunny 16' rule. Film is so forgiving and will produce acceptable results even when over-exposed by 2 or 3 stops or under-exposed by 1 stop.
The table assumes that the sun is at least 30 degrees above the horizon - that's 10am - 5pm on a summers day in the UK.
Remember that the exposure guide in the manual may not be helpful as it is based on the use of old film with a low ISO value.
So, on a nice sunny day, it's simplicity itself. Just load film and snap away.
Note that: My camera, with a speed on 1/150s would be about 2 stops less exposed and would probably work better with ISO 100/125 film.
Using ISO 100/125 film - shutter speed 1/30s
Weather Conditions
Shadow Detail
Aperture
Exposure
Sunny
Snow/Sand
Dark
with sharp edges
f/11
+4 Stops
Overexposed


Not Acceptable

Sunny
Distinct
f/11
+3 Stops
Overexposed


Acceptable

Slight Overcast
Soft around edges
f/11
+2 Stop
Overexposed


Acceptable

Overcast
Barely visible
f/11
+1 Stop
Overexposed


Acceptable

Heavy Overcast
None
f/11

Good

Open Shade
/Sunset
None
f/11
-1 Stops
Underexposed


Acceptable