Agfa-Ansco Royal 1A
Specification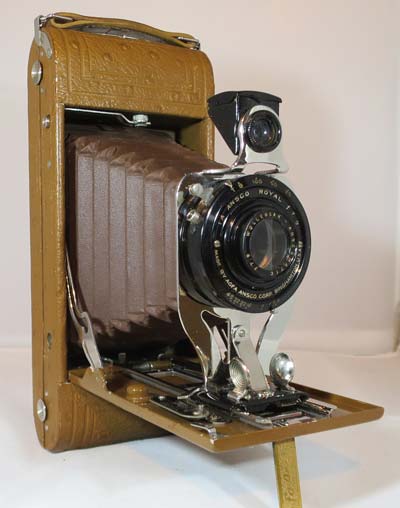 Agfa-Ansco Royal 1A
| | | |
| --- | --- | --- |
| Manufacturer | : | Agfa-Ansco |
| Produced | : | 1925 |
| Classification | : | Medium Format |
| Body Type | : | Folding Bed |
| Bellows Deployment | : | Sliding Rail |
| Construction | : | Metal |
| Film Type | : | 116 |
| Film width | : | 70mm |
| Image Size | : | 6.5 x 10.5 cm |
| No. of Images | : | 8 |
| Lens Type | : | Wollensak Anscomatic |
| Focal Length | : | 120mm |
| Focus Type | : | Sliding Scale |
| Focal Range | : | 6ft - inf. |
| Aperture Type | : | Iris |
| Apertures | : | f/7.9 - f/45 |
| Shutter Type | : | 5 leaf |
| Shutter Speeds | : | T, B, I(1/25, 1/50, 1/100s) |
| Size Open (w x h x d) | : | 90 x 205 x 160 mm |
| Size Closed (w x h x d) | : | 90 x 205 x 40 mm |
| Weight | : | 641g |
Art Deco Credentials






Iconic: Famous, well-known and celebrated
Produced during the main Art Deco period.
Real leather dyed golden brown.
Leather pimpled to resemble ostrich skin.
Line detailing in body leather.
Quality chrome focus sliders.
Chrome lens plate.
Matching brown bellows.
Ornate chrome film winder.
Chrome detailing on viewfinder.
Stippled gold table stand with manufacturers name.
Chrome film door lock
Concentric circles on film spool pins.
The Royal comes in a superb Art Deco box.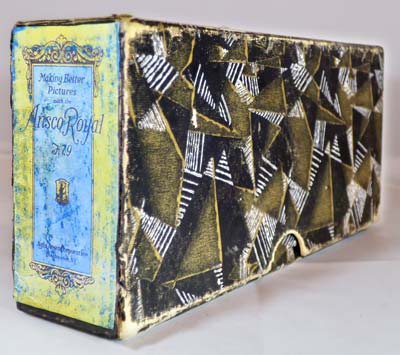 Agfa-Ansco Royal Deco Box
Description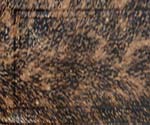 Silver Fox
The Agfa-Ansco Royal 1A camera was manufactured from 1925 to 1932. It should not be confused with the Readyset Royal which has a very limited set of functions. In 1925 Ansco first released the Ostrich version as shown above. This version has a genuine leather covering dyed golden-brown and pimpled to resemble ostrich skin. The exposed metal is painted brown and the bellows are brown. In 1931 a second version was produced know as the Silver Fox. The genuine leather covering of this version was dyed brown and black to look like the fur of a silver fox. It had black bellows and the exposed metal was painted black.
This camera is capable of capturing eight exposures of 2½ x 4¼ inch on 116 film. The camera is equipped with the famous Ansco Automatic brilliant finder. As the finder is swivelled from portrait to landscape mode, the oblong mask in the finder also swivels to ensure you get the approriate view. It has to be seen to be believed! The camera is focussed by sliding the lens plate along the rails against a scale. Minimum focussing distance is 2m. It has two tripod sockets, one to portrait and one for lasndscape. It has two table stands. The main stand is used in portrait mode and a very small one swivels out from the folding bed to prop up the camera for landscape mode.
The aperture range of the camera is f/7.9 to f/45. The shutter has T,B and I modes. In 'I' mode the speed can be set to 1/25, 1/50 or 1/100s. It also has a socket for a remote cable release.
Using this camera
Find the manual here:- Agfa-Ansco Royal Manual
You may also find this Agfa Ansco booklet useful:- Expert Camera Operation Made Easy
Don't forget to cover the red window except when winding on to the next frame in a subdued light.
Adapting for use with 120 film
To adapt this camera for the use of 120 film, please see here:- Conversion of 116 film camera to take 120
Shutter speeds are 1/25s, 1/50s and 1/100s although the accuracy is not guaranteed. The aperture range is f/7.9 to f/45
If you don't want to bother with an exposure meter, follow the guide shown. It is based on the 'Sunny 16' rule. Film is so forgiving and will produce acceptable results even when overexposed by 2 or 3 stops or underexposed by 1 stop.
Remember that the exposure guide in the camera user manual may not be helpful as it is based on the use of old film with a low ISO value.
The tables assume that the sun is at least 30 degrees above the horizon - that's 10am - 5pm on a summer's day in the UK.
If you are not sure about the light level, err on the side of overexposure - i.e. assume the smaller f number.
Where there is a choice, a larger f number will give a larger depth of field.
For the slower speeds, you may need a tripod to stop blur through shake.
Using ISO 100/125 film
Weather Conditions
Shadow Detail
Shutter Speed (s)
1/25
1/50
1/100
Sunny
Snow/Sand
Dark
with sharp edges
f/45
f/32
f/22
Sunny
Distinct
f/32
f/22
f/16
Slight Overcast
Soft around edges
f/22
f/16
f/11
Overcast
Barely visible
f/16
f/11
f/7.9
Heavy Overcast
None
f/11
f/7.9
-
Open Shade
/Sunset
None
f/7.9
-
-
Photographs taken with this Camera
Camera was converted to take 120 film. Portra 120 was loaded into specially designed backing paper to give 6 frames. Unfortunately, the black electrical tape I was using to cover the red window was damaging the delicate leather so I tried to do without it. Obviously a big mistake.
Kodak Portra 160, 120 film. Developed in Tetenal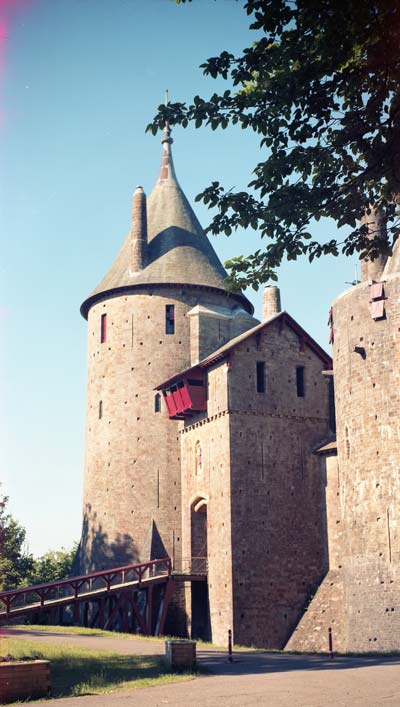 Castell Coch, Tongwynlais, Cardiff, Wales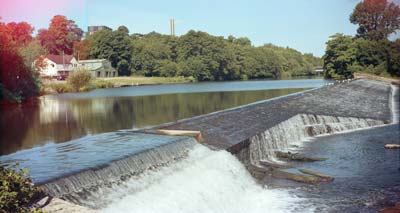 Llandaff Weir and Rowing Club, Cardiff, Wales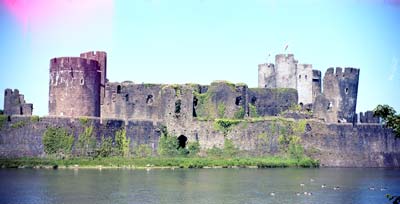 Caerphilly Castle, South Wales
Insole Court, Llandaff, Cardiff, Wales