Sida Extra
Specification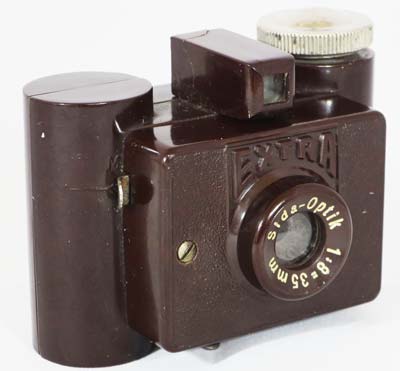 Sida Extra
| | | |
| --- | --- | --- |
| Manufacturer | : | Sida |
| Produced | : | 1938 |
| Classification | : | Miniature |
| Body Type | : | Solid Body |
| Construction | : | Bakelite |
| Film Type | : | Sida proprietary |
| Film Width | : | 32mm |
| ImageSize | : | 25mm x 25mm |
| No. of Images | : | 8 |
| Lens Type | : | Sida-Optik meniscus |
| Focal Length | : | 35mm |
| Focus Type | : | Fixed |
| Focal Range | : | 3m - inf. |
| Aperture Type | : | Fixed |
| Aperture | : | f/8 |
| Shutter Type | : | rotary |
| Shutter Speeds | : | I(1/50 sec) |
| Size (w x h x d) | : | 70 x 55 x 42 mm |
| Weight | : | 65g |
Art Deco Credentials



Acceptable: Modest and restricted
Produced during the main Art Deco period.
Made from brown moulded Bakelite.
Name moulded into front panel.
Leather pattern moulded on front and rear of body.
Raised cylindrical turrets on film bay.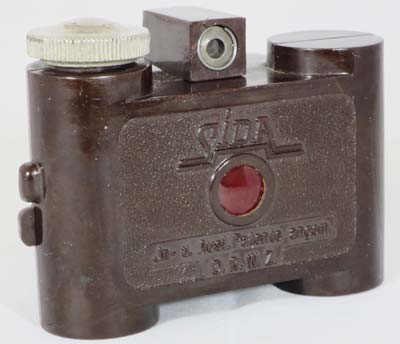 Sida Extra Back
Description
There were several Sida cameras made in various countries including Germany, France, England and Poland.
Sida Extra was produced in 1938. It is a small eye-level camera making 25 x 25mm exposures. It is constructed from brown Bakelite. It is similar to the standard Sida but it has the name "EXTRA" molded into the body above the lens. It used proprietary Sida spools and film.
There is very little to say about this camera, having only a T/I shutter. It's difficult to see what the word "EXTRA" on the body refers to. 😆