Kodak Six-16 Brownie Special
Specification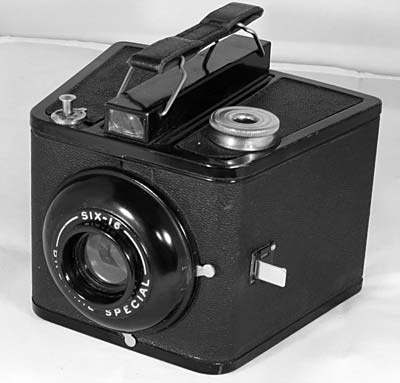 Kodak Six-16 Brownie Special
Manufacturer
:
Kodak
Produced
:
1938 - 1942
Classification
:
Medium Format
Body Type
:
Box
Construction
:
Bakelite
Film Type
:
616
Film Width
:
70mm
ImageSize
:
4¼ x 2½ in
No. of Images
:
8
Lens Type
:
uncoated meniscus
Focal Length
:
105mm
Focus Type
:
Fixed with close-up lens
Focal Range
:
10ft - inf. (close-up 5-15ft)
Aperture Type
:
Fixed
Aperture
:
f/13
Shutter Type
:
Rotary
Shutter Speeds
:
T, I*(1/40sec)
Size (w x h x d)
:
125 x 100 x 120 mm
Weight
:
680g
* Measured on this camera
Art Deco Credentials




Noteworthy: Worth giving special attention
I consider this camera to warrant 3 stars for the following attributes:
Designed during the main Art Deco period
Designed by Walter Dorwin Teague
Trapizoidal shape.
Ribbing in metal body around the viewfinder
Ribbing in metal body on the base
Chrome highlights
Bulbous lens mount
Description
The Six-16 Brownie Special camera was a popular camera designed by Walter Dorwin Teague. It is an all metal camera which is virtually indestructable compared to its Bakelite counterparts. It is wedge shaped and has a curved film plane. The curved film plane reduces vignetting and barrel distortion normally associated with a simple meniscus lens. It also makes it more compact. It has a little tab on the side that folds out that acts as a table stand for this odd shaped camera. It has a tripod socket and a shutter release guard. The Galilean optical viewfinder is small and quite difficult to use.
The film is loaded by moving a lever on the base so that the whole of the film transport system can be removed by lifting the top off the camera.
The lens & shutter are typical for this type of camera. It has a simple meniscus lens and a rotary shutter. The shutter has two speeds : [I]nstaneous and Timed [T]. The focussing is achieved by selecting one of the two zones : "6 to 15 feet" and "Beyond 15 feet". The shutter release located on the top of the camera can be locked in order to avoid an unexpected snapshot. The Six-16 Brownie Special is simply a larger version of the Six-20 Brownie Special.
How to Use
See the User Manual here:- How to Use the Six-20 and Six-16 Brownie Specials
This camera takes 616 film which is no longer available. To adapt this camera for the use of 120 film, please see here:- Conversion of 616 film camera to take 120
If you don't want to bother with an exposure meter, follow the guide shown. It is based on the 'Sunny 16' rule. Film is so forgiving and will produce acceptable results even when overexposed by 2 or 3 stops or underexposed by 1 stop.
Remember that the exposure guide in the camera user manual may not be helpful as it is based on the use of old film with a low ISO value.
The table assumes that the sun is at least 30 degrees above the horizon - that's 10am - 5pm on a summer's day in the UK.
This camera has an aperture of f/13 and a shutter speed is 1/40s.
As the shutter speed is only 1/40s, it is advisable to try to hold the camera against a wall or other solid object. For quick snapshots, hold it firmly against your face.
Using ISO 100/125 film - shutter speed 1/40s
Weather Conditions
Shadow Detail
Aperture
Exposure
Sunny
Snow/Sand
Dark
with sharp edges
f/13
+3 Stops
Overexposed


Acceptable

Sunny
Distinct
f/13
+2 Stops
Overexposed


Acceptable

Slight Overcast
Soft around edges
f/13
+1 Stops
Overexposed


Acceptable

Overcast
Barely visible
f/13

Good

Heavy Overcast
None
f/13
-1 Stop
Underexposed


Acceptable

Open Shade
/Sunset
None
f/13
-2 Stop
Underexposed


Not Acceptable