Kodak Petite - Lightning Bolt
Specification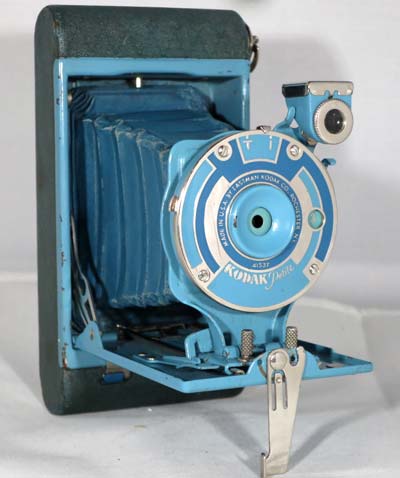 Kodak Petite - Lightning Bolt
Manufacturer
:
Eastman Kodak Co.
Produced
:
1930
Classification
:
Medium Format
Body Type
:
Folding Bed
Bellows Deployment
:
Sliding Rail
Construction
:
Metal
Film Type
:
127
Film Width
:
46mm
ImageSize
:
1⅝ x 2½ in
No. of Images
:
8
Lens Type
:
Meniscus
Focal Length
:
75mm
Focus Type
:
Fixed
Focal Range
:
6ft - inf.
Aperture Type
:
Multistop
Aperture
:
f/11, f/16, f/22, f/32
Shutter Type
:
VP Rotary
Shutter Speeds
:
T, I*(1/30 sec)
Size Closed (w x h x d)
:
70 x 125 x 24 mm
Size Open (w x h x d)
:
70 x 125 x 100 mm
Weight
:
306g
* Measured on this camera
Art Deco Credentials






Iconic: Famous, well-known and celebrated
Produced during the main Art Deco period.
Designed by Walter Dorwin Teague
Lightning Bolt design on base plate.
Blue and chrome geometric design on lens plate.
Smooth covering material with diamond pattern on body.
Chrome struts and film door lock.
Chrome winder, viewfinder bezel and table stand.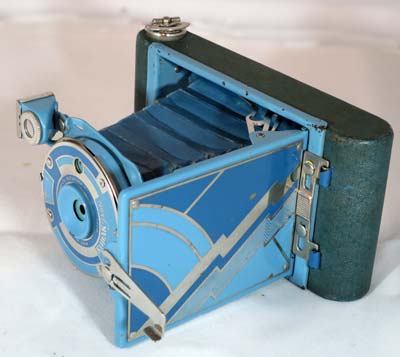 Lightning Bolt Petite
Description
Kodak Petite
The Kodak Petite is a coloured version of the Vest Pocket Kodak Model B and was designed by Walter Dorwin Teague. It was introduced in 1929. It was marketed towards stylish women of the Art Deco period. The basic Kodak Petite was produced in 5 colours: blue, gray, green, lavender and old rose. The body featured a diamond pattern to the covering. The bellows are in a contrasting colour. There were two versions of the camera. One used autographic film which allowed the photographer to add written information using a stylus on the film at the time of exposure. Others were produced without this feature. Some special Art Deco models were produced than had various base board designs in enamel and nickel. Most Petites with coloured bellows have bellows that are not light-tight. Many have been replaced with the more durable black bellows which reduces collector value.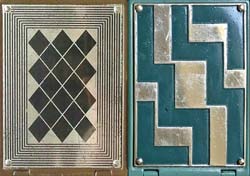 Kodak Ensemble Base Plates
Kodak Ensemble
The Kodak Petite was the camera used in the vanity Kodak Ensemble. This included a colour-coordinated camera, and typically a lipstick holder, compact, mirror and change purse in a fitted vanity case. The vanity case was made with suede & moire lining. Other sets had different inclusions. It was the autographic camera design that was used in these sets. The baseboard of the camera used in the Ensemble featured an enamel and nickel plate that had various designs but notably a step design and a diamond design with grey bellows. Some particular variants were produced in limited numbers. The grey diamond design is much rarer than the step designs. It was marketed for the holidays as the "gift for the searcher who is looking for something a little different, something novel, but thoroughly practical."
Kodak Coquette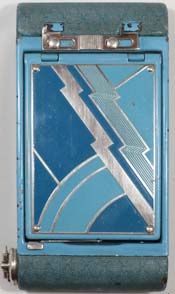 Lightning Bolt Design
Kodak also produced a Petite with a lightning bolt design as shown above. These are very rare. The body is covered with a smooth teal covering which has a stylised diamond pattern. The bellows are normally blue and the metal edging is in blue. The graphical work of Walter Teague was also used on the sales box.
The Kodak Coquette was produced from 1930-31. It is a boxed set including a blue Kodak Petite with its special art-deco lightning bolt design, a compact and a lipstick.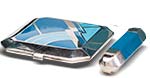 The matching compact had same lightning design but the lipstick holder was blue and silver. Cosmetics were supplied by Coty. It came packaged in a black and silver Deco box. The set is very hard to find and is rarely found complete.
The autographic design was not used for this version of the Petite. The camera was also sold separately.
A green model exists that is even harder to find.
Features
The folding Petite camera is erected by drawing out the lens standard by the knurled finger grips below the shutter. It is drawn out until it clicks into place. It will take 8 1⅝ x 2½ inch images on 127 film. It has a meniscus lens. It has a VP Rotary shutter with instantaneous(I) and time(T) selector. The 'Time' action is more like 'Bulb'. When shooting in Instantaneous mode, the shutter release moves one way for the first image taken and you return the shutter release for the next image. The speeds in the two directions often differ sightly. In the case of the camera above the two speeds were 1/25s and 1/35s. There are 4 diaphram openings (stops) on a circular plate that rotates in front of the lens. The stops are changed by revolving a milled dial.
The complete folding section, including the bed, is formed as a single piece that then fits into the rollfilm back. The two have to be separated to load and remove the film. Film advance is by turn-key and red window. The viewfinder swivels to provide both landscape and portrait framing. There is no tripod mount.
How to Use
Find the manual for the Kodak Petite here:- Manual for Kodak Petite.
This camera uses 127 film which is quite difficult to source except as expired films. For those photographers in the UK, try Nick & Trick photographic services. If you want to use a particular type of film which is not available commercially, then you can cut your own 127 film from any 120 film. See my page on 'How to cut 127 film from 120 film'.
This camera has four aperture settings numbered 1 to 4. These are f/11(1), f/16(2), f/22(3) and f/32(4) which are changed using a rotating wheel found below the face plate. With a shutter speed of only 1/30 sec, make sure you brace the camera against your body or something solid and press the shutter smoothly to avoid camera shake.
If you don't want to bother with an exposure meter, follow the guide below. It is based on the 'Sunny 16' rule. Remember, the exposure guide in the manual is not particularly useful as it is based on old film with low ISO. Modern film is so forgiving and will produce acceptable results even when over-exposed by 2 or 3 stops or under-exposed by 1 stop.
The tables below assume the shutter speed is about 1/30s. If you are not sure about the light level, err on the side of overexposure - i.e. assume the lower light level.
The tables also assume that the sun is at least 30 degrees above the horizon - that's 10am - 5pm on a summers day (May - August) in the UK.
I recommend ISO 400 film in this camera especially in winter.
Using ISO 100/125 Film
Weather Conditions
Shadow Detail
Aperture
Exposure
Sunny
Snow/Sand
Dark
with sharp edges
f/32(4)
+1 Stops
Overexposed


Acceptable

Sunny
Distinct
f/32(4)

Good

Slight Overcast
Soft around edges
f/22(3)

Good

Overcast
Barely visible
f/16(2)

Good

Heavy Overcast
None
f/11(1)

Good

Open Shade
/Sunset
None
f/11(1)
-1 Stop
Underexposed


Acceptable
Using ISO 400 Film
Weather Conditions
Shadow Detail
Aperture
Exposure
Sunny
Snow/Sand
Dark
with sharp edges
f/32(4)
+3 Stops
Overexposed


Acceptable

Sunny
Distinct
f/32(4)
+2 Stops
Overexposed


Acceptable

Slight Overcast
Soft around edges
f/32(4)
+1 Stop
Overexposed


Acceptable

Overcast
Barely visible
f/32(4)

Good

Heavy Overcast
None
f/22(3)

Good

Open Shade
/Sunset
None
f/16(2)

Good
Photographs taken with this Camera
To be fair, the images below were taken with another Petite Lightning with black replacement bellows. The blue bellows were full of holes.
Using Ilford XP2 400 film. XP2 uses the C41 process so it can be developed at most film processing outlets.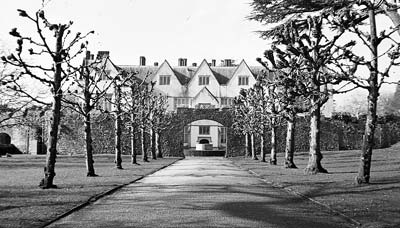 St Fagan's, Cardiff, UK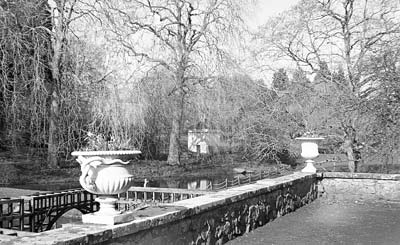 St Fagan's, Cardiff, UK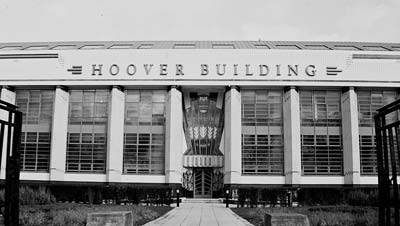 Hoover Building, Perivale, UK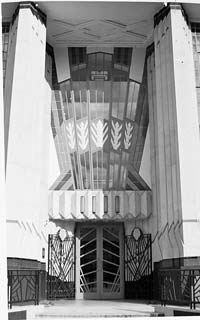 Hoover Building Detail, Perivale, UK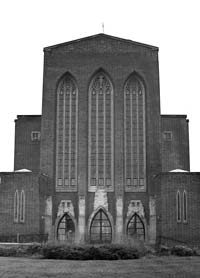 Guildford Cathedral